2019 Fall Speaking Schedule
Oct 8- Corporate Date- Warner Bros. Lot

Oct 10- NYU- LA Campus

Oct 15- Yale

Oct 16 & 17th- Penn State
October 28 & 29- USC

November 5 - NYU

Tent: Nov 13 LMU- DKA- October 28 & 29

November 18- UCLA

Tent Dec 3- University of North Carolina
I love speaking to students all over the country. I can come to your school in person, or, I see you virtually on Zoom. Either way, making connection is the key. I speak on a variety of topics to help the 20somethings college student or recent grad get his or her first job or internship. Although I approach employment through the lens of entertainment, ("if you can make it here, you'll make it anywhere") my techniques can be applied to any major in any industry!
Choose from the below topics or tell me more about your students/employees and I can customize a program!
7 Steps to Getting Your first jobs in Entertainment

If your Resume is like a Tinder pic, apply these 10 tips and become "swipe right" worthy

How to approach and cultivate a relationship with a potential mentor

Become a Networking Ninja in just 10 steps!

Nail your next job interview (what to wear, how to prepare and show them you care!)

Making the most of your college internship (and the 2 things you MUST do before you leave)

How to Target the right opportunities for your interest

Navigating your journey through the Hollywood Jungle with confidence
Being interviewed by the Legendary Larry King in 2018 was a highlight of my life!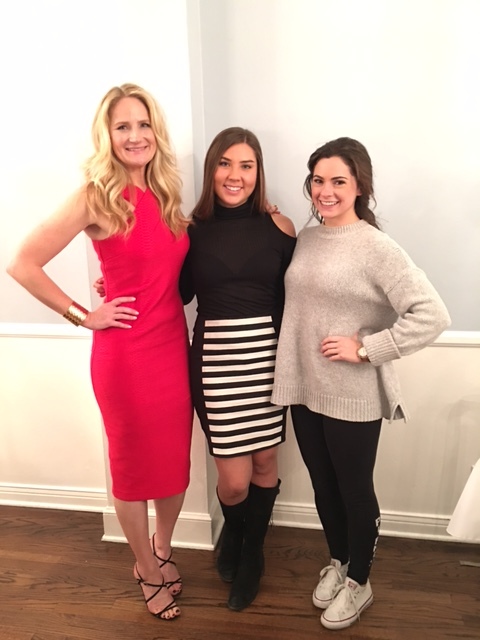 USC- Pi Phi Sorority Scholarship Dinner
Loved speaking to this sorority in 2017 with students Haley Jones (now working at UTA as an assistant) and Maryelizabeth O'Donnell (now working as an actress in Los Angeles)
Krista Parkinson is such a valuable resource to students and graduates entering entertainment industry. I recently asked Krista to speak to my class at USC, and she shared tips on everything from networking to building a resume and what to do before, during, and after an interview. My students loved her, her enthusiasm, and her advice, and have already utilized some of what she shared in real-world scenarios. I truly wish I had a resource like Krista and "My Grads Get Jobs" when I graduated from film school, and highly recommend her!
-Yvette Amirian, TV editor and Adjunct Professor at USC- Film School.
Professor Parkinson was one of my favorite teachers at USC, and is still one of my most supportive mentors in my career! I was a student in her Fall 2016 "Breaking Into the Entertainment Industry" course through the Cinematic School of Arts. Being a part of the class was one of the most valuable experiences I had at USC, and has had the greatest impact on my career in entertainment thus far. She gave us real-life assignments such as writing a cover letter to someone whose position we aspire to be in one day, to visiting all the agencies and studios in Los Angeles, and lastly, making a cover video, one that I still use in job applications today. Krista really cares about her students' successes, and is always willing to offer her exclusive network and guidance to help in whatever way possible." - Vivian Kasparian
Krista Parkinson is a one-of-kind professional who trains and advises entertainment industry aspirants with equal parts insider knowledge, compassion, tough love and, most importantly, honesty. As a regular guest at the NYU Tisch School of the Arts classes I teach, Krista has inspired and energized students as they prepare to enter the work force. Simply put, SHE IS AMAZING!!!
-Andy Goldman, NYU Adjunct Professor
Interested in having kp come to your school?